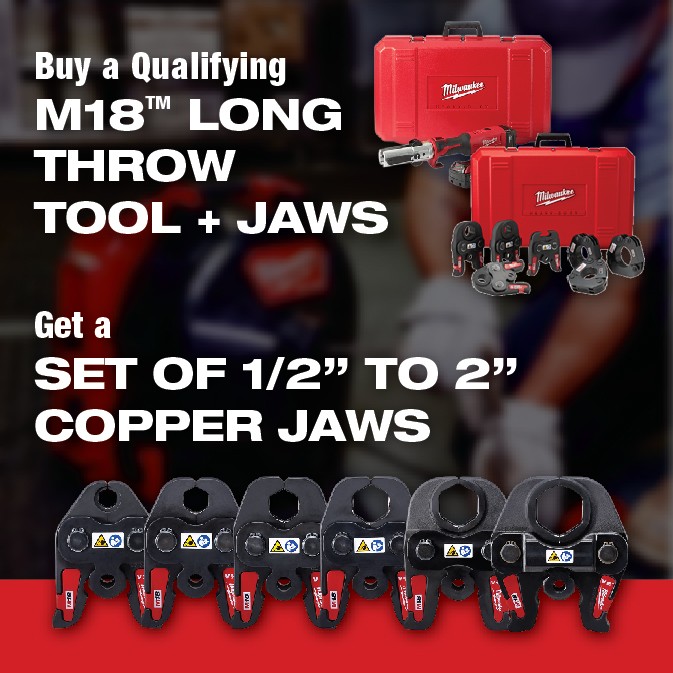 BUY A QUALIFYING M18™ FORCE LOGIC™ LONG THROW PRESS TOOL AND JAW KIT, RECEIVE A FREE COPPER JAW SET (CASE INCLUDED)
Offer Valid February 1 to December 31, 2021
Submitted By January 31, 2022
BUY A QUALIFYING M18™ FORCE LOGIC™ LONG THROW PRESS TOOL AND JAW KIT, RECEIVE A FREE COPPER JAW SET (CASE INCLUDED)
February 1 to December 31, 2021
Terms + Conditions
Sales receipt must indicate the participating product(s) (listed below) purchased at a participating Milwaukee Tool Dealer, Distributor or Retailer within Canada between February 1 and December 31, 2021.  Offer is open to legal Canadian residents. Limit of five (5) offers per household (while supplies last) and only five (5) offers will be granted per claim form. A sales invoice may only be submitted once. Claims must be received by January 31, 2022.   Claims received after this date will not be honoured nor receive a response. Allow up to 6 - 8 weeks to receive your free offer. If you do not receive further notification within 3 weeks, please check the status of your claim at https://milwaukeecanadaebates.ca/en/lookup or contact us at customerservice@milwaukeecanadaebates.ca.
QUALIFYING SKUS
M18 FL LONG THROW TOOL ONLY (2773-20L)
M18 1/2"- 2"BLACK IRON JAW KIT (49-16-2697)
FREE OFFER
1/2" - 2" COPPER JAWS WITH CASE
Milwaukee Tool dealers, distributors and retailers are not eligible. Products that have been returned are not eligible. All claims are subject to Milwaukee Tool's final review and approval. Used, remanufactured and demonstration products are not eligible. Promotional offers themselves and promotional items (both qualifying purchases and free offesr) are while supplies last. Offer is subject to change without notice. If a submission is incomplete or fails to meet any of the terms and conditions, no offer will be issued. Unless otherwise expressly stated in writing by Milwaukee Tool, this offer may not be combined with any other rebate, offer or promotion. Void where prohibited or restricted by law.
Milwaukee Tool,  its affiliated and related companies, and their respective shareholders, directors, officers, employees, agents, representatives, successors and assigns, and, if applicable their respective advertising or promotion agencies (collectively the "Releases") will not be responsible for any event that may cause this program to cease either temporarily or permanently, including but not limited to any electronic network, computer problem or any other technical or human error of any kind that makes continuation of his program not feasible. The Releasees are not responsible for any other technical malfunctions of telephone networks or lines, computer on-line systems, servers or access providers, computer equipment, software, viruses, bugs or failure of any entry to be received for any reason including but not limited to traffic congestion on the internet.